I thought I'd share links to a couple of great contests/giveaways going on right now.

Grab this button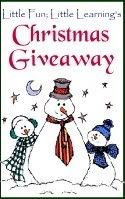 Over at Little Fun; Little Learning, Karen is randomly posting giveaways during the month of December. Check often to see what is new. In addition to her giveaway posts, she is saving one special prize, a Gold Design Package (a $100 value) from yours truly of RS Designs, for a lucky newsletter subscriber. To be have a chance to win the design package, simply become a Little Fun; Little Learning subscriber no later than December 31. The subscription box is in her sidebar. You can't miss it; it says Subscribe to Our Newsletter.

Jackie of Adventures of a Twenty Something Mother is celebrating her new blog design with a week-long Grand Re-opening. So far, she is giving away a pair of Baby Legs (here's the product website), a code for 15% off a purchase of $20 from Danajill Designs, and a copy of the Complete Tightwad's Gazette. She will be putting up one more giveaway post after 7 p.m. EST today. Entry deadline for her contests is 5pm EST on December 15, 2007.

What are you waiting for? Hurry ... don't miss your chance to enter these contests!